What is a
dream
(besides something that might happen when you are asleep)? It is something that we could not have, at least at the moment. Below is an interesting conversation I have with Mei Ru:
"we're great when we have dreams mah :), chase Ur little little dreams now so tht u can achieve ur big dreams in the future"
"dreams is like something we couldn't get, at least 4 the moment"
"dreams keep us motivated mah"
"probably, so we need to have something which we cannot have"
"perhaps something imperfect in life will make us appreciate more with wht we oredi hv"
"is kind of sad, but i have to agree"
Besides getting a fantastic girl friend who I shall love until the end of days (ahem!), my dream is to go to
Bora Bora
. I first saw it in an email and fall in love with it instantly (good advertising perhaps). Then I saw it in some travelling show, showing the best beaches in the world. The beach is awesome, the water chalet is spectacular, the water safari is kinda cool, the water sports ... I think I am specifically referring to the
Pearl Beach Resort
. The place is in the middle of Pacific Ocean, probably it would be quite
expensive
to have my dream vacation. I think I better start saving now, or find someone rich to tag along.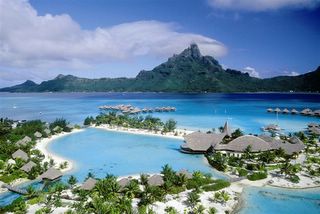 Superb Water Chalet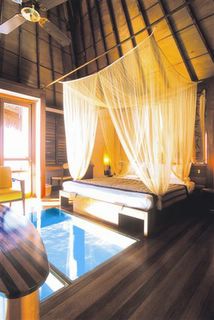 Transparent Glass Floor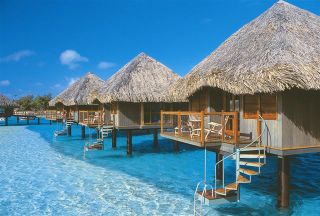 Surrounded by Crystal Clear Water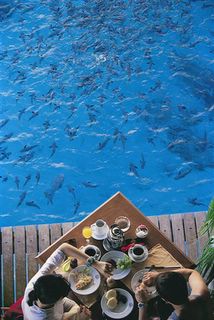 Dine with the Fishes
Going to such a fantastic place alone is kinda boring. I need to share it with a fantastic girl. Girl first, den Bora Bora!