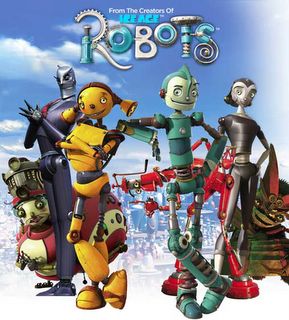 Last Saturday Tang and I manage to organise a weekend outing to watch
Robots
at
IMAX Cinema
for
18
people (auspicious number). Wow! A new record for my event organising effort. It is the 1st time most of us go to an IMAX cinema, including me :)
Most of them are my colleagues (some from Cyberjaya office which I have only met once or none), and the others are their friends. Too many people there and I can't remember all their names, but I manage to stick two of them into my mind. Mei Ling is Mei Ru's boyfriend's little sister (they do look and behave alike), and Janice is Kenny's friend, both are quite shy. Mei Ru's boyfriend is shy as well, so is Michelle's boyfriend. So, pretty much everyone besides my colleagues are shy.
Okay, we are in the IMAX Cinema (too bad there are no 3D edition for Robots, so we are paying RM 5 extra for bigger screen?). We have nice seat with comfortable space, not many view blockages in front of me and a very big screen. Ohh! The movie starts. Tada! Nothing special, except that it is big and the picture sort of out of focus on some scenes. Okay, movie as usual, nothing to be too excited about. The movie is pretty all right, funny, but I would only give it an above average rating. The movie seems visually complex with too many things going on in a single scene, probably it needed to watch it again on DVD to enjoy its detail. I think
Mr. Incredible
or
Shrek 2
is better.
Movie over, and my legs are a little bit cramp (No cinema is big enough for my long legs!). We walk in a group of 10 plus for dinner at
Kim Gary
at
Sungei Wang
. I think the last time I did this walk in a big group thing is during Secondary School when Chinese New Year. I manage to catch up with a few juniors from Cyberjaya, chitchat as usual. There is this girl from Cyberjaya (I think I didn't get her name) who can finish up a whole box of "Cheese Rice" by herself (sometimes even a guy could not finish it!), an amazing display given her skinny size. Man Yee did join us this time as well, but I didn't get much chance to talk to her. We were separated into two tables, and in a fluke of luck we didn't end up in the same stable, though I tried to.
After dinner we decided to hang out for chitchat, so we end up in
Seed Cafe
. Mei Ru's boyfriend and sister decide to leave earlier, probably can't meld well with the group. Soon after, Man Yee left to join her friends somewhere near
Bukit Bintang
. She seems busy on the phone most of the time, the sign of a popular girl I guess. Anyway, somehow our chat topic went to pig and chicken butchering experience, that is something we would not want to see or hear. Now I feel guilty for not being a vegetarian. After an hour plus of chatting, we decided to call it a day. I offered to sent Tang home (though her home is within walking distance; but I am still worry about snatch thief and alike), but she insist on walking home (she is used to it). Probably I should insist even further. I drop her a SMS when I reach home. She is fine :)